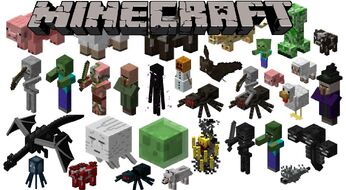 Mobs in Minecraft are other entities in the world, except from the player. A list of them in no particular order is right here:
Porco
Sheep
Ocelot
Cow
Bat
Snow Golem
Iron Golem
Mooshroom
Chicken
Squid
Villager
Horse
Hostile Mobs.
Edit
Creeper
Spider
Skeleton
Blaze
Zombie
Silverfish
Cave Spider
Wither Skeleton
Ghast
Slime
Endermite
Guardian
Ender Dragon For information on the bosses, go to this page here: [BOSSES]
Ad blocker interference detected!
Wikia is a free-to-use site that makes money from advertising. We have a modified experience for viewers using ad blockers

Wikia is not accessible if you've made further modifications. Remove the custom ad blocker rule(s) and the page will load as expected.